About Us
Ocean Vida Beach and Dive Resort, central located at the beach front of the Bounty Beach offers 20 spacious rooms. There are different categories, Sea view rooms, Garden view rooms and also one family room good for two adults and fours children. Beside the restaurant build on top of the Sea Explorers Dive Center there is also a beach-bar so you can chill at the beautiful white sandy beach.
The Resort is owned and managed by Sven & Fabienne a German/Swiss couple that moved to Malapascua in 2005 starting as the dive shop managers of Sea Explorers. They opened Ocean Vida in December 2010. Fernando our Spanish F&B manager is taking care that you will have a good and tasty experience in the restaurant.
In March 2015 we opened a second resort with 12 more rooms on the island called Buena Vida Resort and Spa. Located just a few minutes away from Ocean Vida we offer there different Spa package, massages and daily yoga classes. www.buenavida-malapascua.com
Our goal is to keep the standards and quality of  service as high as possible to make you a unforgettable holiday. The combination of the nice ambiance, fresh food and the friendliness of the locals here on the island make many people come back to Malapascua over and over again.
We hope we can welcome you here soon.
Ocean Vida Team
Fabienne and Sven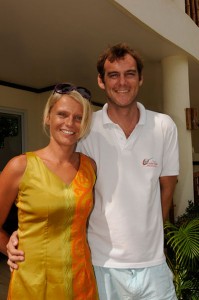 Staff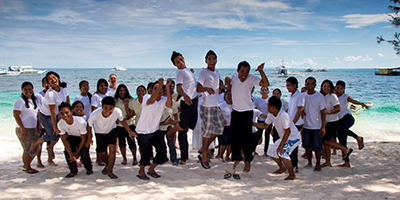 We hope to welcome you soon in Malapascua.