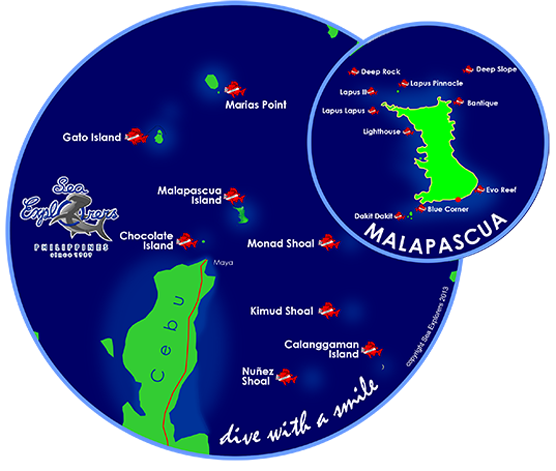 SINGLE DIVE SITES AROUND MALAPASCUA ISLAND
MONAD SHOAL
Monad Shoal made Malapascua famous and helped to shape what it is today, a diver's heaven to observe the thresher sharks, which come to a shallower depth to visit the cleaning stations in the morning.
This is the only place on the planet where you can find Thresher Sharks on a daily base and shallow enough for recreational divers. Depending on the season, encounters with devil rays, whitetip reef sharks or manta rays are possible. Please follow all rules explained to you by your divemaster during the briefing while diving at this protected site.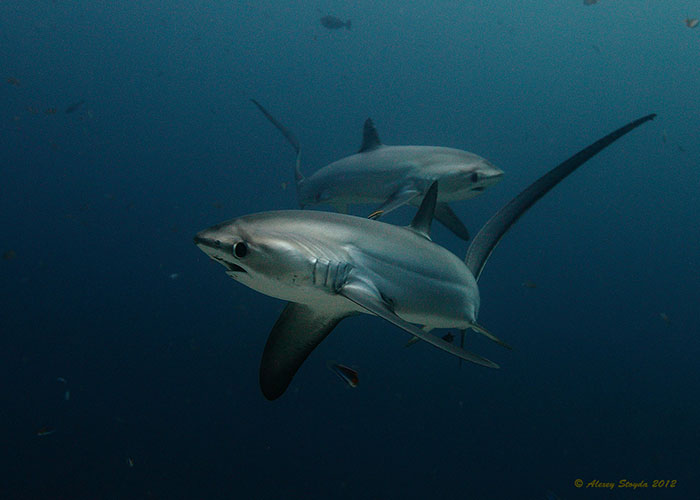 CHOCOLATE ISLAND
A small island located between Malapascua and the northern tip of Cebu. Easy and shallow dives can be made here; even if the current can be sometimes strong at this dive site, there will be always some area where to hide from the currents. The shallow area is mostly rocks covered in soft corals until it starts to slope down towards a sandy bottom. Leather corals, barrel sponges, sea fans and other different soft corals are a perfect hiding place for most critters around Malapascua.
DAKIT DAKIT
This is a close dive site which can be seen from our dive center if you look to the west from the beach. Small rocks coming out of the water bring some nice formations above and under the water. A nice soft coral garden with many things to see, including different nudibranchs, flatworms, pipefish and even seahorses can be found. A perfect dive site to refresh your scuba skills, do a night dive or just to enjoy a shallow dive – with a smile of course!
DEEP ROCK
The tiny sunken island in the northern part of Malapascua is one of the best dive sites around. The flat top of that rock lies in about 14m depth, all around are sheer walls down to 30m, with a slope on the south side towards the east. The reef walls are covered in stunning and very colorful soft corals. Frogfish, nudibranchs, different shrimps and crabs are guaranteed, but Deep Rock always has many more special surprises.
DEEP SLOPE
A very interesting reef with a huge diversity of different macro life. A small wall is turning into a unique sand dune where garden eels can be spotted on every dive. Pygmy seahorses can be spotted among the many sea fans or even flamboyant cuttlefish can be seen at the sandy bottom. Nudibranchs, pipefish, frogfish and cowfish are recent visitors on that reef. A great dive site with a unique topography.
EVO REEF
The special dive site Evo Reef is actually "only" a sandy bottom with a sea grass field. Not many corals can be found there, but it is still a stunning dive site with many surprises. Pegasus, seahorses, eels, crabs, frogfish and many different nudibranchs can be seen here on a regular base. Sea Explorers sank their old banka boat "Katawa" over there to give some fish a place to hide and live. Some other surprise obstacles are there to discover, but we don't want to reveal. Great for check dives, night dives, and also ideal for courses.
LAPUS II
A very interesting dive sites full of surprises. At 12m two big rocks form a mini wall down to 20 m when it turns to a sandy bottom with many different colored sea fans. Schools of anthias, butterfly fish and damselfish can be seen here through the dives. But all the other highlights like frogfish, sea snakes, lionfish, different nudibranchs and even sometimes whitetip reef sharks can be spotted here as well. Good for all levels of divers.
LAPUS LAPUS
One of the great dive sites around Malapascua Island. Strong currents create a perfect habitat for different soft corals in a colorful coral garden. Great rock formations, small canyons, holes and an overhang give plenty of hiding opportunities for nudibranchs, frogfish, flatworms and many more species. Huge sponges and different sea fans are common, and even pygmy seahorses are here if the conditions are perfect.
LAPUS PINNACLE
An underwater pinnacle which is similar to Deep Rock. The shallow area starts in about 10m and slopes gently down to a maximum depth of 23m. On the other side we find a small wall which is about 10m deep and ends in the sandy bottom. This is a great dive site suitable for all level of divers. Great macro life can be spotted here.
LIGHTHOUSE
This dive site is the place near Malapascua to see mandarinfish performing their mating dance during the sunset, especially during the days of full moon. Sea horses are very common at this site as well, together with bobtail squids, weird crabs with anemones growing on them and a lot of other different, unique species. This is a great sunset dive and a wonderful experience for first time night divers.
GUILLIANO
This dive site has a wall about 30 meters in length and a depth of about 25 meters. The wall itself has a lot of life to discover. The plateau of the wall is a great way back to the boat line. Macros are seen all around and provide great opportunities to UW macro photographers. The sandy area around should be scouted properly for the potential of seeing seahorses. Especially popular here is the chance to spot the yellow pigmy seahorse located on one of the sea fans, but this of course is a secret.
DAYTRIP DIVE SITES WITH TWO DIVES
GATO ISLAND
The island is recognized as a banded sea krait breeding ground. Overhangs and small caves give hiding places to white tip reef sharks. The amount and different colors of soft corals is truly amazing. Cuttlefish, seahorses, big mouth mackerel, nudibranchs and many other species can be seen on every dive. The tunnel through the island is one of the highlights at Gato Island. Surely 3 different dives can be made here.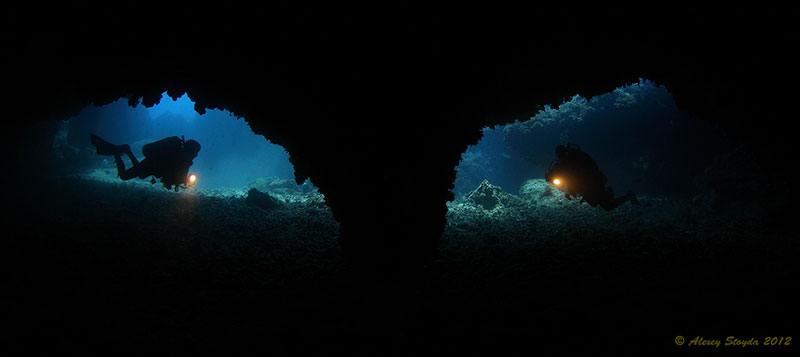 CALANGGAMAN ISLAND
This island has one of the most stunning white sand beaches in the entire Philippines. The top of the reef starts between 5 and 10 meters, until the edge where you find the impressive drop off. Good visibility normally around that island allows a lot of different things to be seen. Pygmy seahorses are one of the highlights followed by frogfish, schools of jacks, snappers, fusiliers and anthias, all seen along the beautiful wall which is covered with sponges, sea fans and a huge diversity of different hard and soft corals.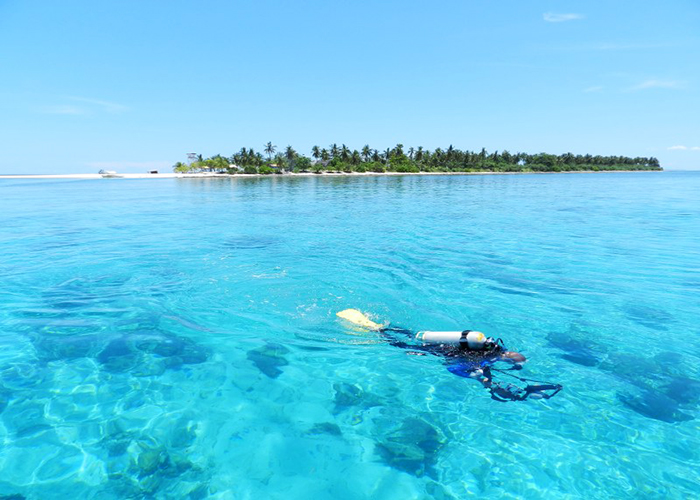 CAPITANCILLO
Capitancillo was a small old Spanish fort and a lighthouse was built in 1905. The island is a protected marine sanctuary, featuring different dive sites around the fort.
The boat ride from Malapascua takes about 1.5 hours depending on the weather conditions. At a depth of 8 meters, the dive starts with an amazing table coral plateau.
The plateau is a stunning place to spot a lot of interesting things there. The wall at the dive site Sea Explorer visits is deeper than 30 meters and hides a lot of different creatures. Several nudibranchs can be spotted, including the Pikachu nudibranch, along with several unique species of fish including the longnose hawk fish and ghost pipefish, shrimps, fusiliers and many more small species that are of interest to macro diver.
Between your dives, the boat will make a surface break for you directly on the small island at the fort. Don't forget to bring your flipflops to visit the island and walk around for amazing pictures.
SAMBAWAN ISLAND
More and more people are starting to be aware of the small and uninhabited island in the province of Biliran which is located five kilometers from the west coast of the municipality of Maripipi in Leyte. Known as Sambawan Island, this incredible piece of land with white sand beaches, pristine waters, stunning corals, green landscapes, and tranquil atmosphere will easily attract travelers of all types, entrapping them all to the mesmerizing beauty and luring them into the temptation of an adventure.
Underwater you can see a lot of macro stuff in this type of dive site . It is a maximum depth of 30 meters, and up to 12 meters at the top of the shelf. It's a very special day trip to discover the island whether you choose to dive or not.