Padi IDC courses in Malapascua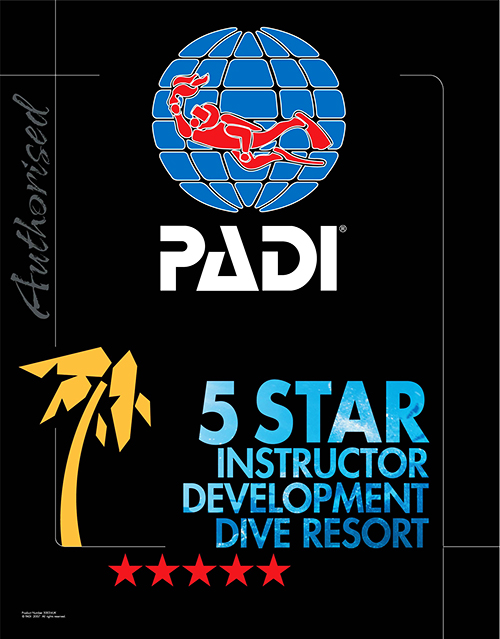 In the Instructor Development Course (IDC) and the Instructor Examination (IE) you learn how to become a teacher in scuba diving. The successful IE means that you are allowed to instruct PADI courses up to the level of a Divemaster.
It is our goal to make your transition from PADI Divemaster to Open Water Scuba Instructor stress-free and enjoyable. You'll find that the professionalism, friendliness and helpfulness of your IDC Staff makes our IDC program one of the most rewarding and satisfying experiences of your life.
We teach you how to teach diving, and how to be successful in the diving industry. You will also learn communication skills which will be your benefit in many aspects of day-to-day life. As a PADI Open Water Instructor, you are qualified to teach students from Discover Scuba diving all the way through to Divemaster level. We teach you how to conduct these courses as well as how to sell them, which is not only makes your work more interesting, but also very profitable.
Course Director Chris F. Heim and his staff are well experienced and they will do their best for your success.
We are very happy to announce that Sea Explorers and Chris Heim start a new cooperation with PADI Course Director Camille Lemmens. As of now, Camille will conduct PADI IDC's in conjunction with our PADI Career Development Centre (CDC) in Pura Vida Beach & Dive Resort in Dauin or with our PADI 5* Instructor Development Dive Resort (Sea Explorers and Ocean Vida Beach & Dive Resort).
Camille has been awarded the prestigious 2011 Platinum Course Director rating by PADI for the fifth consecutive year running, since PADI Asia Pacific introduced this rating. It's the highest rating a PADI Course Director can achieve and a rating that is achieved by less than 57 of all PADI Course Directors worldwide.
For inquires please contact directly Camille at camille@idcphilippines.org or visit the IDC Philippines website.
IDC Courses Details
INSTRUCTOR DEVELOPMENT COURSE (IDC)
The IDC is divided into two parts: The Assistant Instructor (AI) and the Open Water Scuba Instructor (OWSI). To qualify for an Instructor Examination (IE) you must have successfully completed both parts.
You need to:
Bring all your certification cards and copies, plus logbooks.
Be a certified diver for at least 6 months, with 100 logged dives.
Be certified as a PADI Divemaster or leadership level with another organization.
Have proof of CPR/First aid training within the last 24 months.
Have proof of a Medical examination within the last 12 months.
Assistant Instructor (AI)
Assistant Instructor course qualifies you to teach the classroom portions of all PADI courses and some teaching in the water. The Assistant Instructor status allows you to enroll in the OWSI course followed by the IE, giving you full teaching status.
Open Water Scuba Instructor (OWSI)
If you are already a certified PADI Assistant Instructor, or you are an instructor from another certifying organization, then you will only need to complete the OWSI course and the IE to become a fully qualified PADI Open Water Scuba Instructor.
IDC PADI Materials Required
The following materials are the minimum requirements
The PADI Recreational Dive Planner and the eRDP ML.
Instructor Candidate Workbook.
Aquatic Cue Cards for Open/Confined Water.
Lesson preparation slates for Open/Confined Water.
The latest PADI Instructor manual, Paper or CD-ROM.
Peak Performance Buoyancy Specialty Outline
Project AWARE Specialty Program Instructor Outline
OWD, AOWD, Rescue and DM Manuals (latest Editions)
OWD, Rescue and DM Final Exam booklets
Pocket Mask
If you need some PADI Materials, please order those as soon as possible.
Instructor Examination
After completing all aspects of the IDC or the OWSI program, you are qualified to participate in the PADI Instructor Examination. It is a 2 day program, conducted by a PADI Examiner.
You will be certified as an Open Water Scuba Instructor after successful completion of the IE.
CONTINUING TRAINING
Emergency First Response Instructor
Some PADI courses require students to have CPR and First Aid training, becoming an EFR Instructor allows you to offer all the programs. Students will not have to look elsewhere for the training they need. In addition, as an EFR Instructor you will be much more employable.
Emergency First Response Care for Children Instructor Course
The Emergency First Response Care for Children Instructor Course provides you with the additional training necessary to teach Emergency Responders infant and child care skills. This course is required by PADI to qualify you as EFR Instructors and it is part of the one day training.
PADI Specialty Instructor
Earning PADI specialty Instructor ratings allow you to teach a wide range of exciting courses in specific areas. Taking Specialty Instructor Training Courses with us provides you with practical experience for conducting these courses. Each course takes a day, and we schedule them after the IE.
IDC Staff Instructor
Looking for the next step, the Master Instructor or even Course Director? Join us for your Staff Instructor here with Sea Explorers. With lots of fun you'll learn how to conduct IDC lessons and how to teach divers to become instructors.
To enroll in a PADI IDC Staff Instructor course, you must:
Be in renewed teaching status as a PADI Instructor for the current year.
Hold a PADI Master Scuba Diver Trainer rating.
Agree to conduct all levels of diver training consistent with the standards and philosophy outlined in the PADI Instructor Manual
Agree to use the PADI system and components in its entirety.
Assignments: Read the instructor Development Standards and Procedures and Curriculum sections of the PADI Course Director Manual and answer the corresponding questions in the instructor Candidate workbook.
Prepare a knowledge development and confined water teaching presentation.
For class sessions and independent study there are several required PADI manuals and educational materials:
Latest PADI Course Director Manual
PADI Instructor Manual (latest version)
Latest Instructor Candidate Workbook
Knowledge Development Presentation Evaluation Form
Confined Water Presentation Evaluation slate
Open Water Presentation Evaluation slate
The Best of The Undersea Journal
The Law and the Diving Professional
Peak Performance Buoyancy Specialty Instructor Outline
Aquatic Cue Cards – Confined Water And Open Water
Confined Water Lesson Preparation slate
Open Water Training Dive Lesson Planning slate
Log Book (Adventure Log – Pro Modules recommended)